Return to Headlines
"STREAM" Education Flows Through Duzine and Lenape Elementary Schools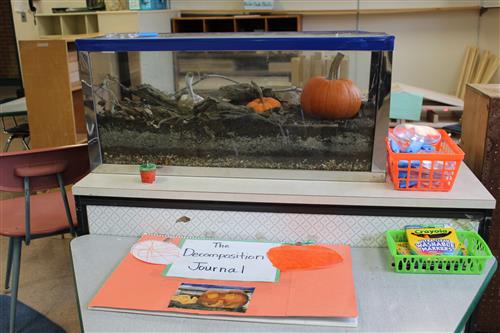 Duzine and Lenape Elementary Schools have become a wellspring of STREAM-ing education. This comprehensive, holistic, and unique educational approach integrates Science, Technology, Reading, Engineering, Art, and Mathematics, and allows students to apply their learning in real-life situations and reach conceptual understandings. Rebecca Burdett, a Universal Pre-Kindergarten teacher at Duzine, said STREAM is about implementing a thoroughly interdisciplinary approach to learning through discovery and inquiry. Education teams at both Duzine and Lenape have recently implemented dedicated STREAM labs, which were funded by a grant from the Benjamin Center at the State University of New York at New Paltz.
Duzine's new lab weaves seasonal themes throughout the students' STREAM activities. A "Vegepod," a small-scale version of the school's outdoor garden, currently features a growing model of the indigenous planting technique of grouping corn, squash, and beans together, called the Three Sisters. A "touch table" allows students to get close to artifacts from the local ecology, such as rocks, shells, and animal bones. There is also a tank with newly hatched trout for students to observe.
Students can take the "fruits of their labor" to the STREAM lab kitchen to bake cornbread, make popcorn, or roast seeds. A tank that houses a rotting pumpkin allows students to observe and journal the stages of decomposition and learn about composting. A Mill Brook Preserve exhibit will feature a Beaver Dam Project, which will involve students in making maps, models, and their own "beaver dam." There are also programmable "Bee Bots" in the lab, which invite students to have fun while learning the basics of robotics. "Everything is intended to foster a personal connection with the natural environment to create 'citizen scientists,'" Burdett explained. "First, they have to love it, and then they will protect it."
An outdoor portion of Duzine lab features water and sand tables complete with shovels, buckets, trowels, pots, pans, a hose, and special weatherproof blocks designed for "mud pie kitchens." The grant funded the purchase of these materials, as well as hollow and mathematical blocks, chutes, and ramps in the lab's Block Shop, where students are tasked with engineering projects they can design on a board, build with large blocks, and then document for display on the "Blockumentation Wall."
Duzine Principal Ross Hogan said that the educators are "incredibly excited about the learning opportunities that have become available" with the creation of the new STREAM lab. "The students are loving the new space, and the materials fit in perfectly with Duzine's existing interdisciplinary curriculum," he said.
The science lab at Lenape is located within two former computer labs and is still being finalized. "This design space will provide students with opportunities to conduct research on real-world topics," said Llajaira Dessereau, Supervisor of Elementary Instruction Pre-K-6. "This is done in collaborative workspaces to discuss their plans, make edits to their designs, or, if needed, reconstruct their designs to start again."
Students will be encouraged to use the lab's laminated tables, moveable whiteboards, and Makerspace tools to enhance their "engineering" skills in fun and playful ways. Mobile furniture and tablets will also allow classmates to collaborate easily on projects. The lab is also equipped with two 3D printers, which can be used in Project Lead the Way (PLTW), a research-based engineering and design program at Lenape that extends into the Middle and High School.
Dessereau has been working with a science committee at Lenape and curriculum specialists from Ulster BOCES, and together they have created germane and innovative STREAM-based lessons. For example, young STREAMers will learn how to create safe pathways for indigenous turtles, engineer a sea wall to prevent storm erosion, and undergo a "Clean, Green Washing Machine" challenge.
Lenape Principal Sean Inglee noted that since both elementary labs provide deeper dives into innovation, STREAM will naturally guide some students into PLTW. "The new STREAM lab and equipment enables us to expand our capacities in science, technology, reading, engineering, art, and math pedagogy–everything STREAM covers–and offers our educators countless new possibilities to pique student engagement," said Inglee. "We expect this will lead to even more student participation in PLTW, which is very exciting for the District as a whole."