Return to Headlines
High School Hispanic Heritage and World Cultures Club Align in the Kitchen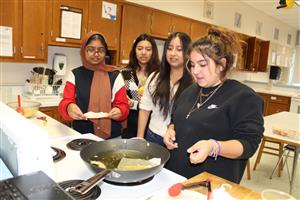 Recently, a group of High School students from Grades 9 through 12 convened in the kitchen to bond through the traditional practice of preparing food together. The group prepared mango lassis, a blended drink made of dahl (yogurt), spices, and fruit–an ancient drink from the Punjab region– and ate another south Asian dish typically eaten during Ramadan called chaat, prepared with chickpeas, apples, celery, and delicate seasonings. Afterwards, the group melted dark chocolate and deep fried sweet dough to make churros, a popular Mexican treat.
If you're wondering how foods from two very different worlds wound up on the same table that afternoon, look no further than the High School's new Hispanic Heritage and World Cultures Club. Grade 12 students Emily Inga and Melissa Nieves said they found themselves in a Spanish 6 class, feeling surprisingly at-ease surrounded by only fellow Spanish-speaking peers. Craving that sense of deeper belonging and understanding in a world where they said they sometimes feel "not white enough at school and too white at home," the girls approached their Spanish teacher Rod Castro about forming a group where they could safely and intimately explore and enjoy their unique cultural identities. Needing eight students to formalize the group, the students enlisted friends whose families immigrated from Pakistan and Bangladesh to fill in the club ranks. The Western and Eastern students quickly recognized that though their native or family's homelands were oceans apart, they actually shared more in common than they expected.
Emily and Melissa, now co-presidents of the club, said they had only envisioned the club to be for Latino and Hispanic students, however, the mix of other ethnic students attending soon revealed a distinct commonality: "code-switching." A linguistic term meaning to alternate between two or more varieties of language in conversation used with peer groups, teachers, families, and friends– code-switching is commonly incorporated by most people every day without realizing it, such as using professional language with colleagues. English as a New Language students and children of immigrants employ this subtle technique on a much larger scale in their worlds, which can sometimes be confusing, exhausting and even isolating.
Club members reported relating to each other's stories of personal insecurities around their identities, and uncomfortable social moments that sometimes arise. The co-presidents shared the experience of one club member who is sometimes asked about her "looks," and how she feels having to explain that she is African and Latina. The club members agree they began to succumb to societal pressure to pull away from their cultural identity and language in late elementary school in order to "fit in" better, and so have decided to visit students in Lenape Elementary School to encourage them to hang onto it. "I want them to know it's OK to have a cultural background," said Emily.
Similarities between their cultures were also noted when sharing about the constructs of their own strong family relations and traditions, which often includes an inherent sense of national and cultural pride as well. "We all have different things, but the same family household-types," explained Grade 12 student, Samrina Amjad. Her younger sister Laiba of Grade 11 said she attends to express her culture, which is very important to her. "Our cultures are similar; what we cook, family traditions." Fellow Grade 11 student Marzan Akther concurred. "I like the environment, like being able to share my culture with other minority groups who are not mainstream."
The group plans to take their food sharing to the next level by preparing and selling their respective ethnic foods at school events with informational posters. Their first foray into food sales was at a staff and student volleyball tournament, netting the group $450 used to purchase tickets for a Flamenco event. Monies raised through food sales will go to future events.
"When Emily and Melissa approached me with the idea of this club, we talked about what they envisioned," said Castro. "They shared plenty, most of it brought me back to when I was a Latino student in High School and College; coming from Chile, I was a majority in my home country but I found myself as a minority within a minority. You see, there are plenty of cultural differences between countries who speak the same language and it is those differences that actually connect us. We understand each other because we have different similarities. In our club we are able to discuss those topics that unite us and make us unique at the same time. These US-born Latinas and latinos want to connect with their Latino culture as much as their US culture and all of us need some type of guidance to learn how to navigate this balance."